East Shore Vineyard is a carefully cultivated 11-acre estate with over 8,250 vines perched on the shores of Lake Champlain. Lake Champlain's 6.8 trillion gallons of water creates a microclimate that makes the surrounding Champlain Valley an ideal place to grow grapes. Since our Vineyard is just a few hundred feet away from the shores, we take full benefit of the micro-climates advantage.
Our soils are well-drained sandy loam over shale – a blend of soils in which grapes thrive. Our soils and micro-climate create a Terroir reminiscent of some of Northern Europe's finest grape growing regions. Founders Bob and Linda Livingstone planted the first vines on Grand Isle in 2000 with Ben Durant and other Families.
Our first harvest was in 2002 when twenty-five people helped us pick 4.5 tons of grapes in one day. We sold our grapes commercially to Shelburne Vineyard until 2007 when we were finally ready as a vineyard to make and sell our own wine. We spent the next year getting all of the approvals necessary to open and started selling our wine in 2008. But as we well know, growing grapes, like any agricultural business, has its ups and downs.
In August of 2007, a wind and hailstorm came through Grand Isle and devastated the vineyard. We lost our grape harvest, had to cut the vines down to the ground because of damage, and replant all our vines. So we went from harvesting grapes to buying grapes and juice from the Finger Lakes in New York.
For those of you familiar with our wines, this is the origin of both our Traminette and Cabernet Franc wines. Our first vintage of Traminette won a double gold medal in the 2009 Tasters Guild International Wine Judging Event and our Cabernet Franc won a bronze medal. In 2008 ESV produced 1600 bottles; 2009 – 6000 bottles; 2010 – 15,500 bottles; 2011 – 29,000, and hit a high of 35,000 bottles in 2012. 2013 we have pulled back our production a bit, choosing to focus more on building our Vermont-grown grape varieties. Now our vineyards just need to catch up, and they will as our vines mature and reach their optimal production. 
Meet our Vineyard Partners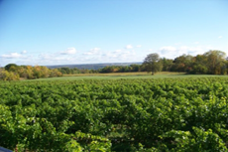 Hosmer Vineyard & Winery in New York
It is too cold in Vermont to grow some of our grape varietals, specifically our Cabernet Franc and Traminette.  Fortunately, our friend Cameron Hosmer in the Finger Lakes can grow these varieties.   
Cameron and his wife Maren started planting grapevines in the late 1970s on the property of their family's summer home on Cayuga Lake.  The farm has grown to over 60 acres of premium wine grapes.  Cameron and Maren also have their own winery and make, among other wonderful wines, award-winning Rieslings.